Regular price
Sale price
$8.75 USD
Unit price
per
Sale
Sold out
Share
Our original 'Goodbye 2 Dry' formula is dermatologist tested and clinically proven to be gentle enough for sensitive skin. Awared the National Eczema Association with the Seal of Acceptance™, this emollient-like skin salve is carefully crafted with gentle, natural ingredients recognized for their moisturizing and anti-inflammatory properties - exactly what a little one needs for itchy relief.  

Works well for children as young as 3 weeks with:
eczema management

dry or scaly skin

flaking scalps

drool irritation

dry or cracking lips
Ingredients: Beeswax, Cocoa Butter, Neem Oil, Carrot Seed Oil Castor Oil, Vitamin E Oil, Raw Shea Butter, Colloidal Oat flour
*RESULTS MAY VARY
View full details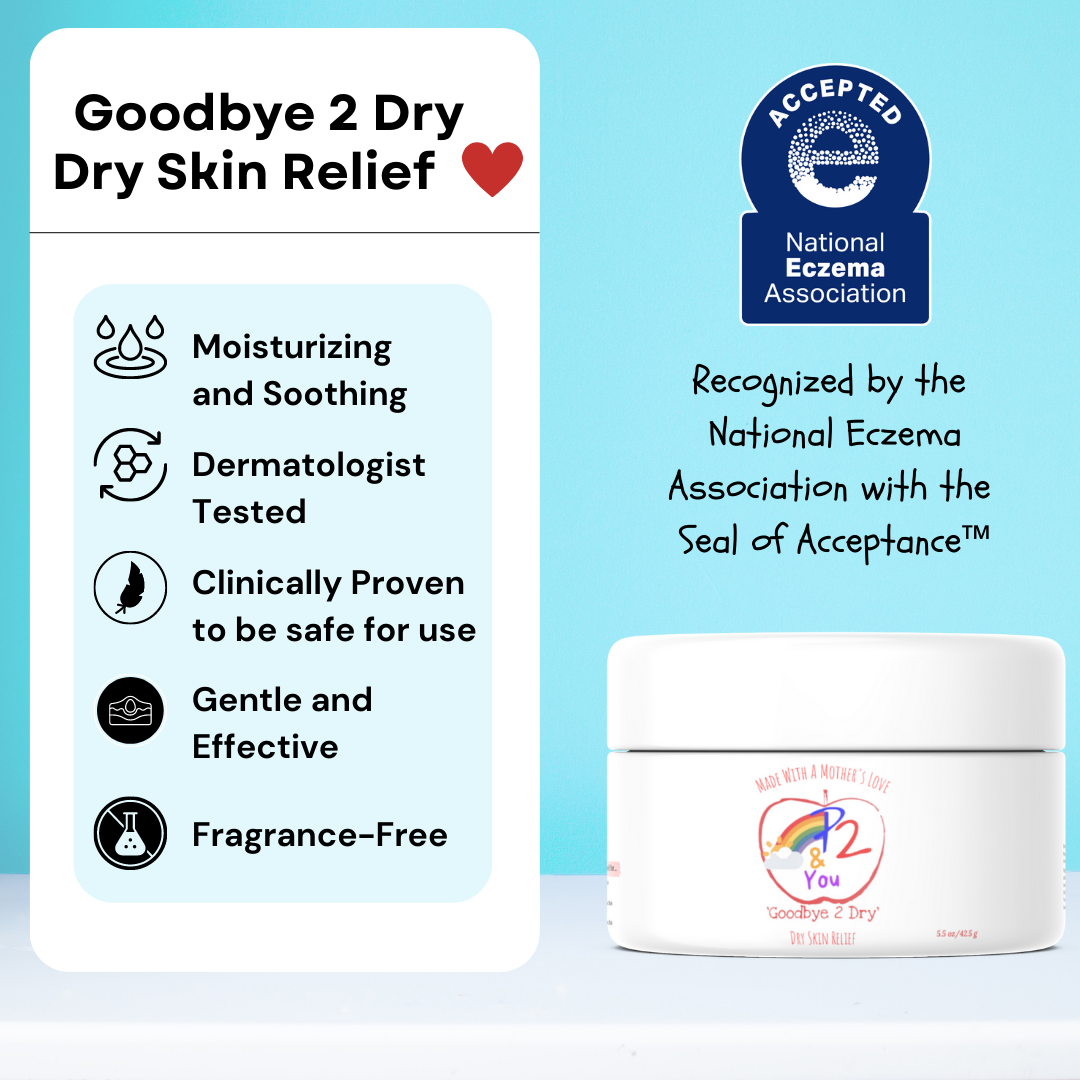 An unbelievable product!
I recently discovered P2&You at a local event and was given a sample. I walked away believing and hoping that THIS was the answer to my eczema. I have many scars to show my trial and error of products that weren't able to relieve me. Currently I'm having an flare and my skin is in the 'super sensitive and painful stage' so I tried the cream sample that was given to me. IMMEDIATE RELIEF! I couldn't believe it and am now so thankful I learned about this product and company!
Hi, Mariana!
Wow! What an amazing review! Thank you so much for sharing your experience. It was a pleasure to meet you and we are incredibly thankful to assist you on your healing journey.
Excellent product
Layer first with regular moisturizer, then dry skin relief on top. Dissolves easily and helps a lot with the itchiness and I see significant improvements in just 1 week. Will be buying more.
Thank you so much for taking the time to leave us a great review! We appreciate your continued business and support and we are happy to have you a part of the #P2andYouFam !
The Best
The best product I ever used on my skin. My son applied it to his head as well and bumps were gone in 2 days. The best!!
This is great! Thank you so much for a thoughful review! We are so excited that you've gotten great results!
Worked great
Helped with my babies eczema. Will definitely be buying again.
Thank you Zachary! We are grateful and thankful to have earned your continued business!
"I was using Johnson and Johnson on my baby and it broke her head and forehead out real bad. So I stopped using it and the bumps was still there. I was putting hydrocortisone and vaseline on it and it was taking the redness away slightly. I inboxed P2 & You about their eczema product for babies. It came in the mail and I washed the baby up with only water and applied the cream made by Taylor and vaseline to her head 2x a day and this is the before and after picture. 🥰🥰🥰"
This is so great! Thank you for giving us a try - we are so glad your beautiful baby girl's skin was renewed with our product!